Maintaining aircraft in its perfect state is a must, as it depends on the life of travelers. It is one of the most critical aspects of the aviation industry and has to be done by the best technicians or mechanics. Only experienced professionals can do aircraft maintenance works efficiently, and to do it perfectly, they need the best aircraft tools.
There are so many places where you can get aircraft tools easily. One of the basic things to remember is that not all places provide the best aircraft tools. So, choosing the best place for good quality maintenance tools is better. To provide an efficient service, a maintenance service must have certain tools like a speed handle, torque wrench, vibration meter, safety wire pliers, etc. Detailed information on all these things is available here with some tips for finding the best tools.
What are aircraft tools?
Aircraft tools are generally referred to as the maintenance tools used by an aviation maintenance technician. These tools are used for a wide variety of purposes that are required to maintain an aircraft's working condition. Being one of the largest and fastest methods of transport, service aircraft requires a lot of maintenance to ensure the safety of travelers. It is also necessary to service the aircraft regularly to get rid of all its problems. An aviation maintenance technician – AMT, uses many aircraft tools for maintenance purposes, and some of the common tools are provided below.
Essential aircraft tools :
Speed handle:
A speed handle is a long screwdriver that you can use to spin a screw easily. It is one of the important aircraft tools that just need one hand. Since aircraft repair involves removing many screws, this tool is needed the most (as an aircraft engine consists of around 1000 screws).
Torque wrench:
Some screws that are used in certain parts of aircraft must be tightened only to a specific torque; thus, comes the need for the torque wrench. The torque wrench helps the technician know the amount of torque applied and do the maintenance work perfectly.
Safety wire pliers:
Safety wire pliers tie safety wires together to ensure that the nuts and bolts will never get loosened. It is used to tie the wires with maximum toughness.
Vibration meter:
A vibration meter is another necessary aircraft tool used to measure or maintain vibration levels in an aircraft. It will help the pilot understand the magnitude of vibrations on the aircraft, thus, helping to maintain its levels.
Mirrors:
Aircraft repair works on some parts can be so hard that the technician will not be able to get a direct view. Mirrors are used in such cases so that the technician can quickly see the critical part and repair it.
Metal working tools:
Metal working tools are equipment used for cuttings, bending, or welding metal parts of the aircraft. Since an aircraft mainly consists of metal parts, metal working tools are also needed for maintenance.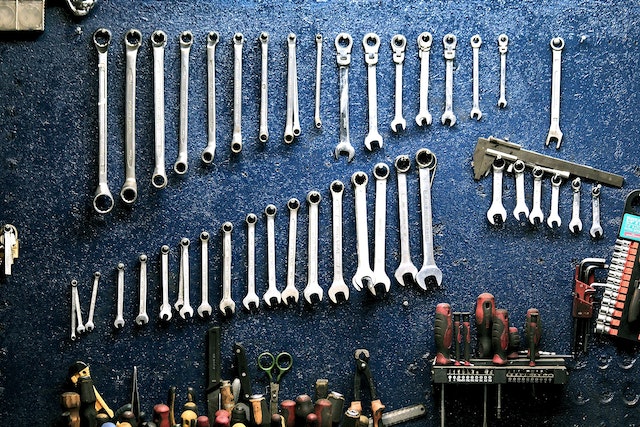 Where to find the best aircraft tools?
Aircraft maintenance should be done by the best professionals and with the best aircraft maintenance tools. Even though many places provide different aircraft tools, you must choose the best place. Some tips that help you find the best aircraft tools are provided below.
Research to find the best store:
Researching not only helps to find the best company but will also help you to know more about aircraft tool and their prices. With good research, you can make a list of dealers; thus, you can compare them to find the best one.
Try to know about the tools provided and their quality:
Once you find a credible seller, you must also check with them about the tools that they have. A one-stop shop is always better than hopping to different sellers. In addition, checking out the quality is also paramount.
Check certification and license of the seller:
Make sure that the tools that you purchase are of the best quality. You must only buy it from a certified store. Also, check if the seller provides a guarantee on the tools.
Conclusion:
Aircraft maintenance tools play a main role in the repair works done on an aircraft. Aircraft maintenance is more important than other services provided to all other vehicles. Some of the essential tools, along with their details, are provided here. Along with this information, some tips for choosing the best aircraft tools are available.
Editor's Recommendation:
3 Point Slinger for Camera | It Is a Must for Photographers.