The experience of seeing new places may be thrilling and gratifying. Having the appropriate travel essentials is crucial, whether you're traveling for work or pleasure. Your travel experience may significantly change if you know what to pack, how to pack, and how to manage your luggage.
This post will provide you with practical advice on how to pack effectively and smartly so you can concentrate on taking full advantage of your trip opportunities. As a bonus, we have also included travel essentials for women.
What are the essential items for traveling?
It's crucial to pack the travel essentials for a vacation in order to guarantee a pleasant and joyful trip. The following are some items to consider about bringing:
Travel documents: You should always have your passport, visa, ID, boarding pass, and travel insurance with you when you travel.
Money and credit cards: Be sure you include enough cash, debit cards, and credit cards to meet your trip's costs. As a backup, it's a good idea to have traveler's checks with you.
Clothing: Dress appropriately for the weather and your intended activities as you pack your wardrobe. Think about bringing items that you can combine and match to create various looks.
Toiletries: Toiletries are necessary goods that you shouldn't leave out of your luggage. Bring your normal toiletries, such as toothpaste, shampoo, conditioner, soap, deodorant, and sunscreen. This is important as you might not find the brand you are used to in foreign countries.
Electronic devices: You should pack your phone, camera, laptop, and other electronic gadgets for your vacation. Bring chargers and adapters so you can keep your electronics charged.
Medication: If you need to bring prescription medicine on your vacation, be sure you have enough. A basic first aid kit, as well as over-the-counter painkillers and allergy medicine, are also smart ideas to include.
Tips for Packing Light:
Choose versatile clothing: Pick adaptable attire and pack items that may be combined to produce several looks. For this reason, basic patterns and neutral hues are ideal.
Roll your clothes: Clothes that you roll rather than fold might take up less room and have fewer creases. This is fantastic advice that will undoubtedly be useful for packing basics for travel essentials.
Use packing cubes: Employ packing cubes to manage your clothing and accessories. Packing cubes are compact, lightweight bags. These can conserve room in your suitcase and make it simple to find what you need.
Minimize toiletries: Bring only the necessary toiletries with you on your journey to reduce the number of toiletries you pack. Many products are available around the world. So if required, you may also purchase toiletries when you get there.
Choose lightweight luggage: Choose lightweight baggage to maximize your packing capacity. Lightweight luggage can let you carry more. Look for lightweight baggage composed of materials like nylon or polyester.
Consider laundry options: If you're traveling for a longer period of time, think about staying at a place with a laundry facility so you can wash your clothing and bring less with you.
How to Organize Your Luggage?
Your travels may be considerably more efficient and pleasurable if your luggage is organized properly. Here are some ideas for keeping your baggage organized:
Use packing cubes: Employ packing cubes to manage your clothing and accessories. Packing cubes are compact, lightweight bags. These can conserve room in your suitcase and make it simple to find what you need.
Pack by outfit: Pack each garment individually to make getting ready each day easier. Keeping track of what you've worn and what you still have to wear is simpler as a result.
Keep liquids separate: To prevent mishaps, liquids should be stored in a separate bag or container. The size and quantity of liquids you can bring on board must adhere to airline standards.
Use compression bags: Employ compression bags to minimize space in your luggage. Compression bags are an excellent method to do this. Your garments may be compressed by using these bags to remove excess air.
Put heavier items at the bottom: Place heavier goods towards the bottom of your bag: Doing so will assist distribute the weight more evenly and prevent your bag from toppling over.
Carefully package delicate products: Travel essentials must pay the greatest attention when packaging fragile objects since they require particular care. Put them in the middle of your baggage, surrounded by soft objects, and cover them in bubble wrap or packing paper for protection.
Don't overpack: Avoid overpacking; doing so might make your luggage weighty and challenging to handle. Keep in mind the baggage weight restrictions and aim to just bring what you need when you pack.
Travel essentials for women:
When it comes to packing their essentials for a trip, women may have certain requirements. These are some things to think about for women traveling: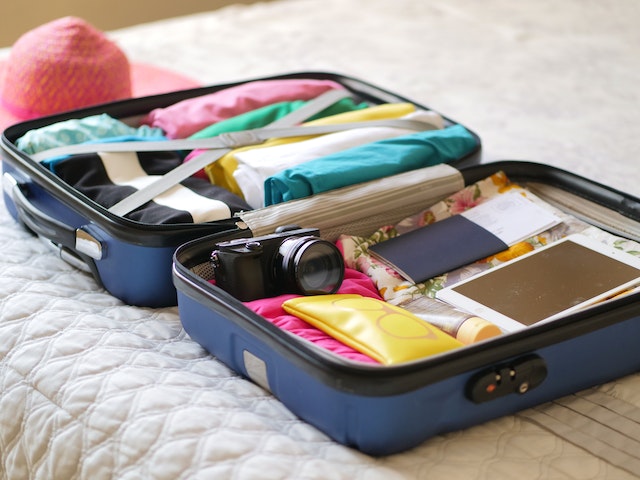 Feminine hygiene items:
Women must bring essentials such as tampons, pads, and menstrual cups. Bring additional supplies along just in case there are any unforeseen delays.
Items for personal care:
Makeup, hairbrushes, and other frequently used goods for women should be packed. Take a little mirror with you for touch-ups on the run.
Comfortable Shoe:
Ladies should bring along comfortable shoes that are appropriate for their scheduled activity. Pack a pair of walking shoes as well as flip-flops or sandals for the beach or pool.
Shawls and scarves:
When traveling, these items can include a variety of things. These may be helpful as a cover-up, a fashion piece, or to stay warm on a chilly flight.
Undergarments:
Bring a couple of extra pairs of undergarments in addition to enough for the duration of your vacation. For comfort during extended travel days, think about bringing sports bras or bralettes.
Sun protection:
To shield oneself from the sun's damaging rays, women should bring sunscreen, sunglasses, and a hat. If you're going somewhere snowy, this might not be travel essential.
Sleep Aids:
Packing sleep aids like earplugs, an eye mask, or melatonin may help women who have problems sleeping in unusual situations.
Conclusion:
Finally, while packing for a trip can be a challenging task, it can also be stress-free and pleasurable with proper preparation and organization. Always keep in mind your individual needs when packing, and aim to travel minimally to maximize your efficiency.
One technique to maximize suitcase space and maintain organization when traveling is to use packing cubes, roll clothing, and pack by outfit. Don't forget to include your travel essentials, such as sun protection, cozy shoes, and personal care products. These suggestions will help you pack expertly so you may take full advantage of your trip. Do check out the travel essentials for women that we have included.
Related Posts: